We are running this unique International corporate gifts service since 1998 and receive thousands of "thank you" letters from our Customers around the World. Thank you for your feedback. It is important to us and we truly appreciate it.
Our business principle is absolute customer's satisfaction with not just product but complete service to the highest Customer's expectations.
We receive most corporate gift orders from
Australia, USA, UK, Ireland, Singapore, Switzerland, Spain, Canada, Brazil, Czech, Poland, Russia.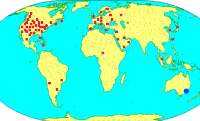 Australia, USA and UK are the leaders, giving us more than 85% of all orders. Perhaps, this is a combined result of our advertising strategy and high probability of Aussie's parties, trade shows and business co-operation happening between these countries.
To our surprise (no ads there at all) we are getting more and more orders from Eastern Europe, Thailand and Turkey. It's either Australian businesses aggressively penetrating those markets or vice versa - we are getting aggressively penetrated - means more business for us, anyway :0)