Small platypus toy in corporate custom printed jackets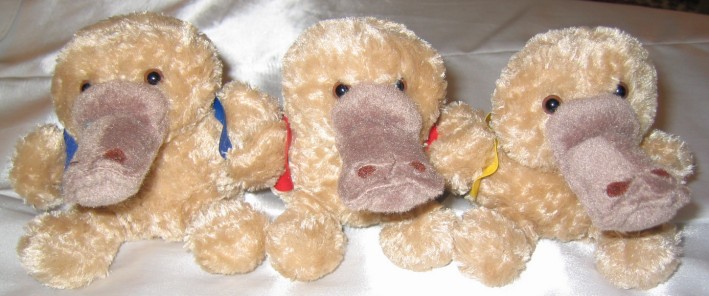 This superior quality duck billed platypus toy is from Aussie Pal series of small toys
It is made of new fluffy polyester fabric that gives a silky feeling when you touch it.
Platypus toy is filled with polyester fiber and some polyester beans for a proper balance.
Toy is quality and safety tested. It's non-allergic, non toxic and fully hand washable,
however supervision children under 3 is recommended.
| | | |
| --- | --- | --- |
| Platypus toy | inch / oz | mm / gr |
| Size | 4 | 110 |
| Weight | 2.1 | 60 |
Suggested printing area
Vest
20 x 70mm
3/4 x 2 1/2 in
Print on each toy might be individual, for ex., guest's names
Reference prices in Australian dollars
FOB Sydney, multiple color print
| | |
| --- | --- |
| Q-ty, pcs | Price per toy in AUD |
| 5 | $35.00 |
| 10 | $30.00 |
| 25 | $20.00 |
| 50 | $17.00 |
| 75 | $15.00 |
| 100 | $12.00 |
| 200 | $11.00 |
| 400 | $10.50 |
| 800 | $10.30 |
| 1000 | $9.50 |
| 2000 | $8.00 |